WEEKEND
---------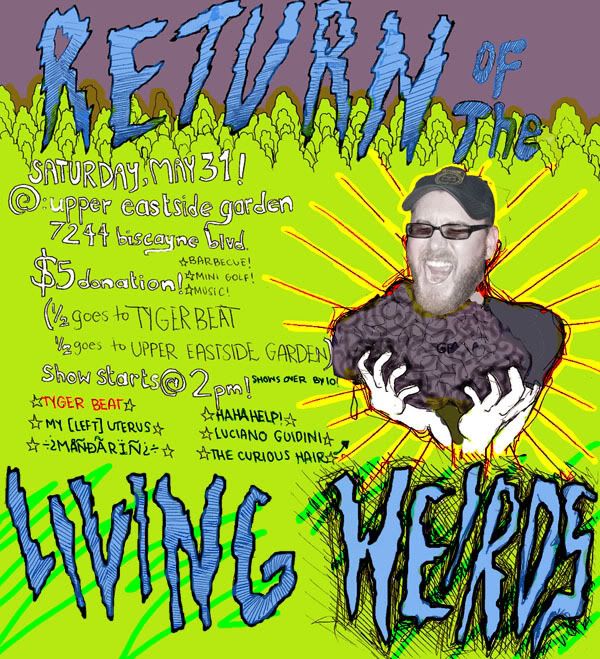 we know that you'd rather be staring at the ceiling in your room listening to some overpriced record of a mediocre band on subpop, thinking to yourself "tampa is boring".



quit yr fuckin' whining and come see some out of town bands. bring a couple dollars, too. every little bit counts, lets do the math...

(15 people) x ($3) = $45; thats roughly a tank of gas!!!

the financial excuse that supercedes "i'm a college student" is "i'm on tour", it's summer anyway.


GR+D08 wrap-up
-----------------
Ruled. We have pictures and a couple copies of the tour tape(s) & cd-r's.
SAFG17 - m[l]u - "witty title tba" CS10
recorded with j. keegan (andros rex) on guitar.
1. [] (4:00)
2. f.h.o.n.y. alliance (3:46)



SAFG22 - m[l]u "get ripped & die '08" CS10
a true test of self worth - any interested parties must choose the cover of their liking. although a pube which floated it's way into sean's scanner provides extra hilarity when ordering josh's picture.

non-safg


BM254 - my [left] uterus/problem? split cs13

bi-coastal or bi-curious? 2 songs from tampa, fl's m[l]u and 6 songs from oakland, ca's 'problem?'

available soon from BREATHMINT RECORDS <-- get it direct, newt will send you some cool shit with your order.


ALSO OUT/// SAFG21 uh oh spades "(look what you've done) Neon Filth" CDR




---->contact: stayawayfromghosts(at)yahoo(dot)com<----